Voltmetre differentiel d'occasion mesure
Voltmètre differentiel Bordeaux
Le voltmètre différentiel est la forme améliorée des instruments mesure DC/AC tel que le multimetre. Ici la source de tension DC/AC inconnue s'applique au rectificateur qui convertit la tension AC en DC avec une magnitude équivalente. Le courant continu résultant de cetype de montage pour éliminer le bruit s'applique au potentiomètre pour le comparer à la source de tension standard. BAT 33 Bordeaux en Gironde achat vente appareil de mesure d'occasion.
LeCroy 1855A Bordeaux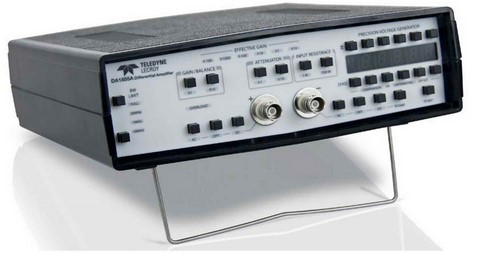 Vend LeCroy DA 1855A prix 1500 € etat impécable
Specifications
These specifications are valid when the following conditions have been met:
• The instrument is being operated from a power source, which meets the line voltage and
frequency specifications.
• The instrument has been operating for at least 20 minutes in an environment that is within
the operating environmental specifications.
• The instrument has been calibrated within the last 12 months. Calibration was performed in
a controlled environment of 25° C ± 5° C.
Nominal Characteristics
Nominal characteristics describe parameters and attributes which are guaranteed by design, but do
not have associated tolerances.

General
Input Configuration True Differential, + and – Inputs Precision Voltage Generator can be
selected as – input source in VCOMP mode.
Offset Capability Precision Voltage Generator can be used to provide true differential offset.
+Input Coupling Selections AC, Off (Precharge), DC
–Input Coupling Selection AC, Off (Precharge), DC, VCOMP
Input Connectors BNC (+Input incorporates Probe Attenuation Coding sensing connector)
Maximum Input Voltage Withstand up to ± 200 Vp continuous. Automatic input disconnect with
manual reset.
Output Configuration Single ended, Ground referenced
Output Impedance 50 Ω
Intended Output Load 50 Ω
Output Connector BNC
Amplifier Gain X1 or X10
Input Attenuation ÷1 or ÷10
Bandwidth Limit Filters 100 kHz, 1 MHz, 20 MHz or
(Low Pass) None (full bandwidth)
Bandwidth Limit Filter
Characteristics 3-pole Bessel, 18 dB/octave -> Manuel
.